Sanssouci Palace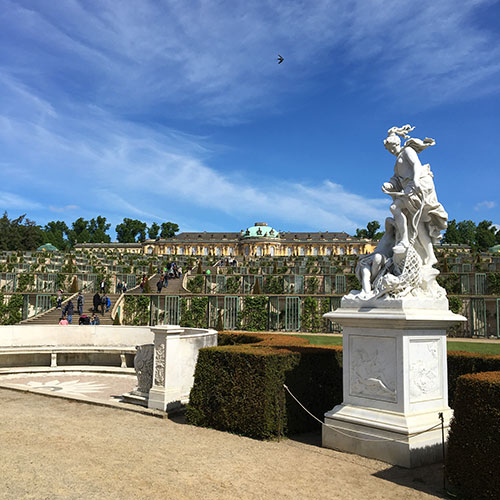 Sanssouci palace is only one of the 30 sites administered by the Foundation of Prussian Palaces and Gardens (SPSG). It was the summer residence of the most important Prussian king, Frederick the Great, who started planning it shortly after taking the throne in 1740. The architect Georg Wenzeslaus von Knobelsdorff (see also Berlin Opera) realized the mansion-like palace (with only twelve rooms) in a distinct rococo style. The king spent much time at his beloved "little vineyard house", how he called it, where he could enjoy privacy and follow his manifold interests. He died there on August 17, 1786, and, according to his wishes, was buried – although belated – on the garden's upper terrace, next to the palace.
The gardens of Sanssouci cover an area of about 290 ha (over 700 acres) of which a smaller part is a formal garden in baroque design. The larger part was designed by Peter Joseph Lenné in the 19 th century in the fashion of a natural landscape. Lenné created lines of view to create connections between the various buildings in the park, most of which can be visited today (although some only on weekends): The New Chambers, the Chinese Tea Pavilion (photo below), the New Palace with the Pesne-Gallery (200 rooms), the Picture Gallery (works of Van Dyck, Caravaggio, Rubens), Charlottenhof Palace (by Karl Friedrich Schinkel), the Roman Baths, the Orangery Palace and the Church of Peace.
Potsdam Guide
Opening hours :
• From Tuesday to Sunday 10h-5:30pm (01.11-31.03: 16h30)
Tips :
• In high season buy your tickets right at 10 a.m.
• Or buy in advance on the SPSG-website
• You must be at the entrance at the fixed ticket time
• From the main train station, bus lines 695 and X15 go directly to Sanssouci. At the station you will be guided by graphic signs.
• If you already have tickets: Walk through the baroque city and the park, but take enough time (min. 30 minutes from Luisenplatz).
Ticket prices :
• On site : 12 € for Sanssouci / 19 € for all castles
• Online : 21 € for all castles
Web: www.spsg.de